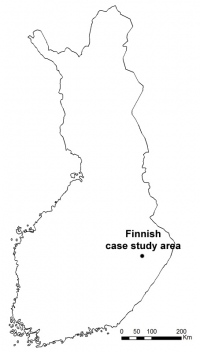 Climate change challenge
Link to Case Study results here
The forests in the Finnish case study area represent the central boreal zone with dominance of coniferous forests. Generally, the climate in the area is characterized by cold winters and persistent snow cover and by a short growing season. Excess accumulation of snow may damage the forests every now and then.
Due to changing climate, it is expected that the duration of frozen soil period will decrease significantly along with increase in annual mean temperature. Any increase in the frequency of strong winds during unfrozen soil period may increase the risk of wind (mature Norway spruce and Scots pine stands) and snow damages (younger Scots pine and birch stands). The risk of wind damages increases especially during late autumn and early spring, when the anchorage of trees is further deteriorated by wet soil. However, trees regardless of tree species may suffer damage also in summer storms.
Response to the challenge
The main management objective in the case study area is to sustainably produce timber for forest industry and biomass for energy use. Forests are also used for recreation, collecting of non-timber forest products such as berries and mushrooms, hunting and landscaping purposes.
The aim of the case study is to assess the risks of wind- and snow-induced damage related to forest planning with various objectives (i.e. timber production, carbon sequestration, risk management) under current and changing climate based on integrated model approach. In the above context, current silvicultural practices will also be evaluated (e.g. species preference, type and intensity of thinnings, and rotation length).
Who will carry on the research and what models are applied
FinnFor simulations are used to answer how is the growth of different species responding to climate change (increasing/decreasing growth) with need to modify the thinning practices and rotation length, and to consider tree species choice in the management. Furthermore, based on interactive use of FinnFor and HWIND models, it will be studied how to avoid risks for extreme wind force and snow load. Furthermore, forest planning tool (MONSU) together with HWIND model will be used to assess the risks of wind- and snow-induced damage related to forest planning with various objectives under current and changing climate.
This case study is carried out by University of Eastern Finland, Joensuu, Finland and the contact persons are Seppo Kellomäki (seppo.kellomaki(at)uef.fi) and Heli Peltola (heli.peltola(at)uef.fi).
Where the case study is situated, who owns the land
The Finnish case study area (about 1500 ha) is located close to the city of Joensuu, North Karelia, in eastern Finland. In the study area, private ownership covers close to 100% of forest land. The owners represent a wide range of backgrounds (e.g. farmers, city dwellers etc.). Many forest owners have also their own forest plans prepared under the supervision of the North Karelia Forest Centre. The Forest Centre advises on and monitors forest management by private owners.