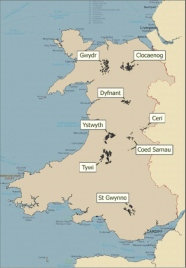 Climate change challenge
Link to Case Study results here
Wales covers a total area of 20,779 km², of which 286,769 ha is forest. The forests are categorised as Atlantic/temperate with conifer being the dominant type (47.9%). 38% of the forest area is publicly owned, with the remainder in private ownership. Two forests located in north Wales will be the focus of the Wales case study. They were selected on the basis of contrasting characteristics and social value, and the availability of good quality digital data. Gwydr and Clocaenog forest (see location map and characteristics table below), together cover a land area of 11,500 ha. These forests both contain a large proportion of Sitka spruce, but also a range of other conifers and broadleaves.
The climate challenge facing Welsh forests has been described in 'Impacts of climate change on forestry in Wales'. The expected warmer climate in Wales will improve tree growth nationally. Productivity is expected to increase by up to 2–4 cubic metres per hectare per year (m3 ha-1 yr-1) for conifers on sites where water and nutrients are not limiting. The climate of Wales is likely to remain favourable for growing conifer or broadleaved species capable of yielding high-quality timber. However, species suitability is likely to change. Changes in the seasonal distribution of rainfall will cause more frequent summer drought and winter flooding. Changes in the frequency of extreme winds may cause more wind damage. Pest and disease ecology may also change with the climate.
Response to the challenge
Low-impact silvicultural systems (LISS) and the use of tree mixtures may provide a basis for secure adaptation. Where other management regimes are used, a wider range of species and genetic material within a species will increase stand resilience in a changing climate. Contingency planning may provide the basis for response to the increases in occurrence of catastrophic wind damage, fire, and pest or disease outbreaks. Decision-support and guidance is required to help forest managers adapt and manage for climate change and to inform national and local risk management strategies.
Who will carry on the research and what models are applied
The Atlantic Wales case study will initially concentrate on application of a suite of tools and models that have been developed, are under development, or are currently in use by Forest Research. These will help integrate climate change adaptation into options for local forest planning in Forestry Commission Gwydr and Clocaenog forests. The attached figure shows which models are being used for different tasks.
Contact persons at Forest Research are Bruce Nicoll (bruce.nicoll(at)forestry.gsi.gov.uk) and Mariella Marzano (mariella.marzano(at)forestry.gsi.gov.uk).


Where the case study is situated, who owns the land
The Welsh case study will initially focus on public sector forests, where more data is currently available. Public sector forests in Wales are divided into four Forest Districts. Forest districts are responsible for planning, decision-making and liaising with public and communities over access, recreation and other management issues. Gwydyr forest is located in Coed y Mynydd forest district whilst Clocaenog is in the Coed y Gorarau district.

Gwydyr Forest is used intensively by the public who enjoy the forest for walking, wildlife, cycling, climbing, fishing, and orienteering. A range of management agreements exist with the community relating to orienteering, fishing, guided walks and trails, access for private individuals living or working within the forest, biking and horse-riding. Clocaenog forest is predominantly a production forest. However, it has a high conservation value with one of few remaining red squirrel populations in Wales and it is part of a black grouse recovery project.
Wales Case study forest characteristics: